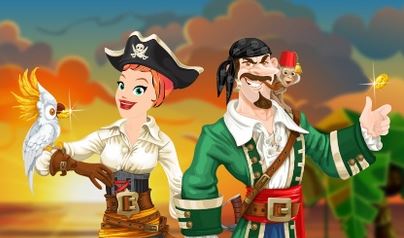 Pirate Month at Slots Capital – Ahoy there, join the pirate ships sailing into the Slots Capital port and get some big wins. This month Slots Capital is bringing you three legendary pirates. Each pirate sails in with a big bonus so everyone has chance to join them and get their "doubloons" (Cash/Moolah/Dollars/)
The Three you need to look out for are:-
The first pirate is Francis Drake who participated in some of the earliest English slaving voyages to Africa. He earned a reputation for his privateering, or piracy against Spanish ships and possessions.
The second legend is Anne Bonny who is remembered as one of the most famous female pirates. She operated in the height of the notorious and today highly romanticized period known as " Golden Age of Piracy".
The last and the biggest name is Blackbeard who was extremely adept at capturing ships and plundering loot. Blackbeard struck fear into the hearts of New World seamen and he's unquestionably the most famous pirate of all time. You can find Blackbeard statues in North Carolina and the U.S. Virgin Islands. A brand of men's hair dye was named after him. And the city of Hampton, Virginia throws an annual pirate festival in his honour.
Your Bonus Lineup
*Code: DRAKE150 – 150% up to $750. Minimum deposit $35. Wagering 30x. No Max Cash-out. Bonus runs from September 10 – 16 and includes ALL players
*Code: BONNY 250 – 250% up to $1250. Minimum deposit $35. Wagering 45x. No Max Cash-out. Bonus runs from September 17 – 23 and includes ALL players
*Code: BLACKBEARD300 – 300% up to $1500. Minimum deposit $35. Wagering 45x. No Max Cash-out. Bonus runs from September 24 – 30 and includes ALL players
*Code: JOLLY100 – 100 Free Spins on Jolly Rogers Jackpot (redeeming all above bonuses). Wagering 60x. $1000 Max Cash Out. Bonus runs from October 1 – 5 and includes ALL players
http://www.gambling-advisor.com/go/slots-capital-casino/